338 Allen Xpress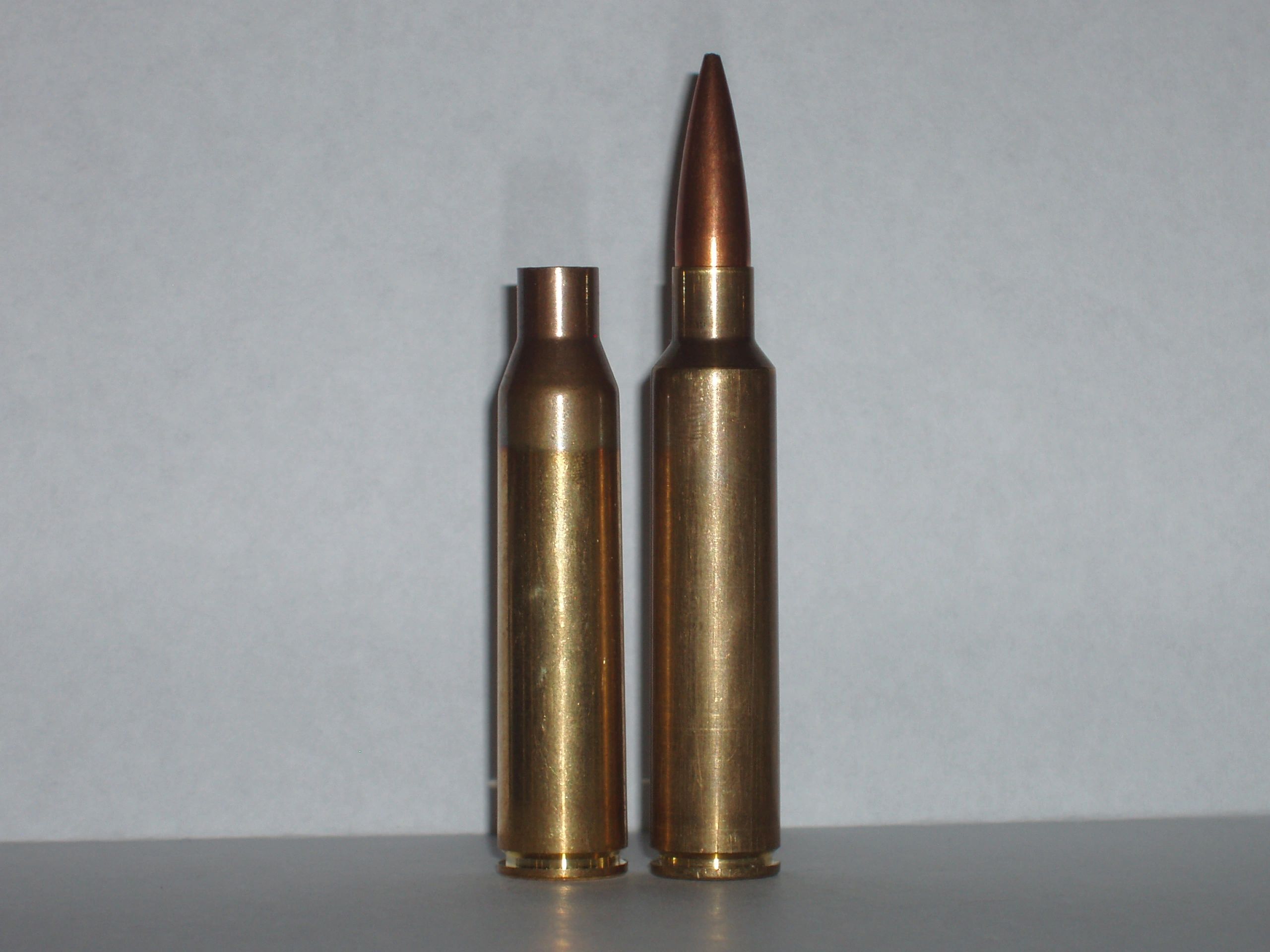 Left to Right: 338 Lapua Magnum case, 338 Allen Xpress w/ 300 gr. Sierra Matchking loaded to 3000 fps.
Parent Case: 338 Lapua Magnum
Preferred Bullets: 225 gr. Nosler Accubond, 250 gr. Nosler Accubond, 265 gr. Barnes TTSX, 300 gr. Sierra Matchking, 300 gr. Berger Gen 2 Hybrid match bullet
Recommended Powders: Hodgdon Retumbo
Recommended Primers: Federal Fed-215 Large Rifle Magnum
Velocity Performance:
Bullet Weight Velocity(28-30" barrel length)
225 grain 3400 fps
250 grain 3300 fps
265 grain 3200 fps
300 grain 3000 fps
Recommended Uses:
The 338 Allen Xpress is one of only two wildcats in the entire APS family of wildcats that can fire a commerically available round (338 Lapua Magnum) with perfect safety and generally fine accuracy. The other is the 510 Allen Magnum. The 338 Allen Xpress will easily match the 338-378 Wby and 338-416 Rigby class chamberings but do so with nearly 10 grains smaller powder charges and in a significantly shorter over all length in ammo. The 338 AX is best used for long to extreme range big game hunting and it performs exceptionally well on heavier game such as elk at ranges over 1000 yards. It is also the first of the APS wildcats that offers a usible barrel life that is long enough so that it can be used for long range varmint hunting and competition use.
Pros:
-Ability to fire factory 338 Lapua ammunition for fireforming or field use if needed.
-Extreme performance level.
-Extremely strong and high quality parent case.
-Relatively long barrel life.
-Easy to form brass (brass available from APS fully formed)
-Wide range but bullet selection.
-Wide range of suitable powders.
-Comfortable recoil levels.
-Extreme ranging ability. Well past 2500 yard max ranging ability.
Cons:
-Increased recoil over smaller caliber choices(recoil with APS Painkiller muzzle brake installed is extremely comfortable)
Not many cons for this wildcat!!
It should also be noted that there are correctly headstamped and fully formed brass available for the 338 Allen Xpress for those that would want to take their rifles over seas where the airlines often require headstamp on ammunition to match that of the rifles chambering engraving. This custom brass is made by Jamison International and while it is not as strong as Lapua brand brass, it is plenty strong to handle the top loads developed for the 338 Allen Xpress.