The new APS Stalker rifle line is a much refined design compared to the APS Raptor line of rifles. The Stalker line is designed as a very portable big game hunting rifle design that still will offer the hunter 1000 yard reach, yet also capable of those quick off hand shots that often present themselves while big game hunting. Anyone looking for the ultimate all around big game rifle with unequaled quality and performance, the APS Stalker rifles are what you have been looking for.
Receiver
As with all the APS projects, the APS Stalker Rifles have to be accurate and powerful. To begin with the Stalker is designed around the new APS Stalker receiver. There are two models available, Ultralight and Hunter models. Both have integral rail and recoil lugs. The UL model is quite light for an all steel receiver offering extreme strength and rigidity in very light weight. The Hunter
Barrel
Another feature that keeps the Stalker weight down to a manageable level is a new barrel contour. Using a similiar design as the Raptor LRSS, the barrel contour for the Stalker has a longer then normal barrel shank. The main differences between the two is the Stalker shank is trimmed down to 1.250" diameter and the shank is not fluted like the much larger LRSS barrel shank.
The Stalkers barrel shank is roughly 5" in length, dramatically longer then a conventional sporter type barrel shank. Beyond the shank, the Stalker barrel tapers down in a conventional #5 contour with heavy flutes. This custom barrel design produces the stiffness and rigidity of a much heavier barrel while keeping weight down as much as possible.
Stock
As with the receiver and barrels, the Stalker rifles use refined stocks as well to limit rifle weight. There are three stocks generally used on the Raptor Stalker rifles. These are the McMillan BDL and HTG sporter stock and the Manner MCS-T and MCS-GAT stocks. All of these stocks offer plenty of strength yet keep rifle weight down as much as possible.
Design and Performance Goals
The purpose of the Stalker is to provide a precision long range big game rifle that is easy to shoot and easy to pack. A Raptor Stalker, ready to hunt, will come in at 12 to 13 lbs depending on optical package used. This included the weight of a harris bipod. This is not an ultralight system but its plenty light for a healthy mature male to pack in most hunting situations.
The Stalker is fully capable of 800 yard reach with just enough weight to make this type of shooting possible. The Stalker offers a fine balance of shootability, portability and of corse plenty of power, ballistic and terminal.
Features:
-Raptor receiver w/ "Hunter" ejection port
-Lightweight 2 piece base
-Competition recoil lug
-Lilja Stalker barrel contour, 24" to 28" finish length
-Barrel fluting
-Small Painkiller muzzle brake
-Bead Blast Matte finish on metal surfaces(cerakote finish optional)
-McMillan BDL or HTG, Manners MCS-T or GAT stock choices
-Adjustable Cheek Piece available on Manner MCS-T or McMillan HTG)
-Pillar bedding
-Jewell trigger
-HS Precision DM system (Optional Seekins or internal Remington BDL style magazine box with Rem BDL floorplate)
-Finish weight: 10-12 lbs including optics and bipod
APS Wildcat Chambering Options:
257 Allen Magnum
6.5mm Allen Magnum
270 Allen Magnum
7mm Allen Magnum
300 Allen Xpress
338 Ultra Maxx
338 Allen Xpress
375 Allen Xpress
Conventional Chambering Options:
257 STW
264 Win Mag
7mm Rem Mag
7mm Dakota Magnum
7mm STW
7mm Ultra Magnum
300 Win Mag
300 Ultra Magnum
338 Ultra Magnum
338 Edge
338 Lapua
375 Ultra Magnum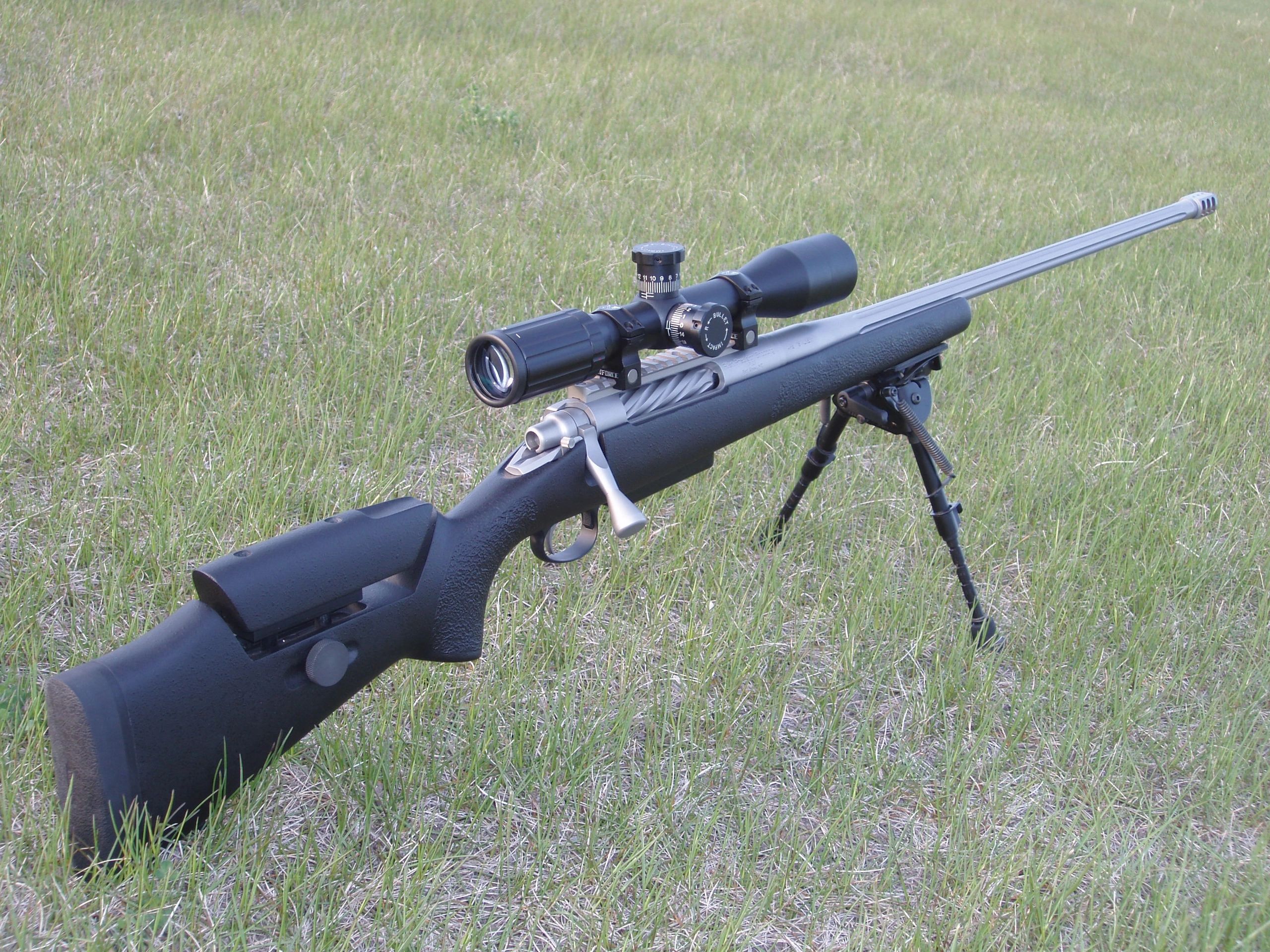 Raptor Stalker in 7mm Allen Magnum